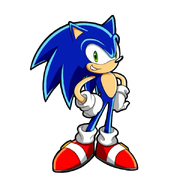 Will M (born March 4, 2002) is the creator of the character Robert Wilson, which is the human name version of his Wikia username Robowil. He is a big fan of Greeny Phatom, and even owns the only known demo VHS of Greeny Phatom The Movie.
Will M is the webmaster of Greenyphatom.com and related websites for it and other Greenytoons, such as GodLovesLittleGuy.com, a website devoted to the religious beliefs of the cast and crew of the Greenytoons, OhCleo.com, a website dedicated to female characters in the Greenytoons, and the official websites for The Green Bob Show.
He is also a fan of Sonic the Hedgehog, and frequently mods Sonic Forces.
He was the previous "Baker 2" member of Robert's Pizza Bakers, and the youngest in the group. He left in 2017 and former member Ernie Vienna took his place.