| | |
| --- | --- |
| | This article is a stub. You can help Greenytoons Universe Wikia by expanding it. |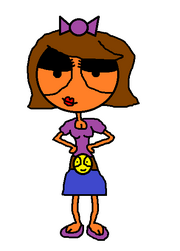 Little Girl 2 is a clone of Little Girl. She is a female version of Little Guy 2
Origin
On April 4, 1994, Little Girl walked into a mad scientist's laboratory with a bunch of clothes on pure accident, and walked into a cloning machine. With her DNA in the machine, a exact copy of her was created, though one of the shirts (which was purple) screwed up the cloning process which caused the clone to appear, wearing a purple colored shirt and bow.
Appearance
She has orange skin and brown hair.
She wears a purple bow.
She wears a purple shirt and a blue skirt on.
She wears purple slippers on her feet.
Trivia
Little Girl 2 is voiced by Alina Withers, and sometimes by her understudy Denise Oliver who does a "darn good" impression of Alina's Little Girl 2 voice, which she also uses for Maurecia on Wayside, Kitty Ko on Sidekick, Mina Beff on Grojband, Hazel on My Friend Rabbit, Nowaguma on Beyblade, and Irma on Cyberchase. However, in her first few appearances, she was voiced by Heidi Gardner (who went on to voice Cooch in SuperMansion).

In Canadian and European French she is voiced by Belgian singer and actress Lio, who is a judge on the French "pop idol" show Nouvelle Star and was the voice of Goldie in the French version of Rock-a-Doodle.

In Latin American and Castillian Spanish, she was originally voiced by Mexican singer and songwriter Gloria Trevi, but when Gloria was arrested in 2000 in Brazil for corrupting minors, the dubbers recast her with Annabelle Gutiérrez, better known for playing "Doña Espotaverderona", the mother of "La Chimoltrufia" in the television series Chespirito.

In Japanese, she is voiced by LiLiCo, a Swedish actress based in Japan.